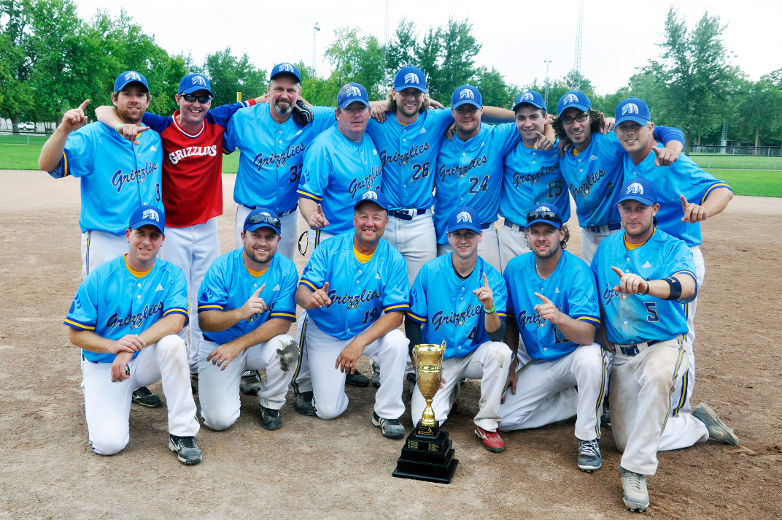 The Grizzlies are A Champs!
After a 27 year drought, the Mitchell Grizzlies are proud to announce they have regained the A Championship trophy with a thrilling 10-7 victory over the Mitchell Athletics. The Grizzlies finished a strong season with a 3rd place standing in the league with a record of 16-6 and started the league tournament in the A side bracket. A Friday night victory over the Coyotes, the Cornfest Rec winners, sent the Grizzlies into the A round robin pool. A Sat morning victory over 2nd place Padres and a mid day victory over 1st place Athletics provided the Grizzlies with a bye to the A semifinal round. A Sat afternoon loss to the White Sox left the Grizzlies with a 2-1 record. Sun morning the White Sox beat the Red Caps in one of quarterfinal games to set up a rematch Sun afternoon. The Grizzlies were victorious when it counted and were on to the A finals against the defending champion Athletics. The Grizzlies never trailed in the final game and got contributions from every player on the roster.
The Grizzlies would like to congratulate the Cardinals on their B Championship and the Rostock Rumble on the C Championship.
See the following link for the story in the Mitchell Advocate: http://www.mitchelladvocate.com/2014/08/25/grizzlies-roar-back-to-the-top
See the following link for the Mitchell Slo-Pitch league website: http://www.mitchellslopitch.ca/Standings.html